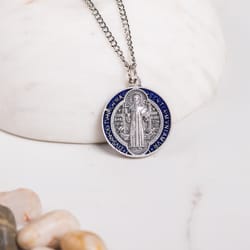 With all due respect to REM, I haven't quite lost my religion. It just morphed. I have, however, lost my protection. Twice. And that has been on my mind for the past week.
As I noted in my last post, my husband and I went on a ghost tour with some of our friends (like the notable Terri Reid and spouse, and the notable Donnie Light and spouse). Now, I also posted waaaayyy long ago about a different friend who wanted to give me something to help defend myself. And she gave me a St. Benedict medal. I put a picture of it on the page; some of you might remember that post.
At any event, I had that medal for years and I wore it everywhere. It seems St. Benedict (and his medal) protect the wearer from dark and nefarious entities, and I figure, given my chosen profession, my typical subject matter, and my penchant for taking ghost tours, wearing the medal just seems like a good idea.
About two years ago, that medal left me. It was somewhere up in Door County, and losing it broke my heart. Not just for the protection, but because it had been a present from a friend. So I set about trying to find a replacement. For some odd reason, at the time I went searching for it online, all I could find were either very expensive models, or medallions that were not made to be worn on a chain. That was fine. I got myself a St. Benedict medallion and carried it in my pocket.
I know I had it on the ghost tour. I know this because I always check. The next morning, however, St. Benedict was not in his usual spot. Now, I have a place on my nightstand where he lives, and I always put it there, except for the times I accidentally forget him in my jeans pocket. So when I didn't see him on the nightstand, I searched my jeans. And he wasn't there. I searched every pocket I had on me the night before: fleece sweatshirt, jacket. No Benedict. I even had Terri Reid searching her house and her car. No luck.
St. Benedict has left me again. I think perhaps he might run across someone who he thinks needs him more than I might at the moment, and so we part ways. He's done it twice and that's fine. I hope he is being helpful somewhere. But then I'm at a loss again.
I have ordered yet another St. Benedict, and this time, I did find a medal to wear on a chain around my neck. It's due to arrive soon and I hope it does. I feel kinda funny without him around. On the other hand, I really hope third time is the charm and that this one will stay with me a lot longer than the other two.
I'd really appreciate the protection.